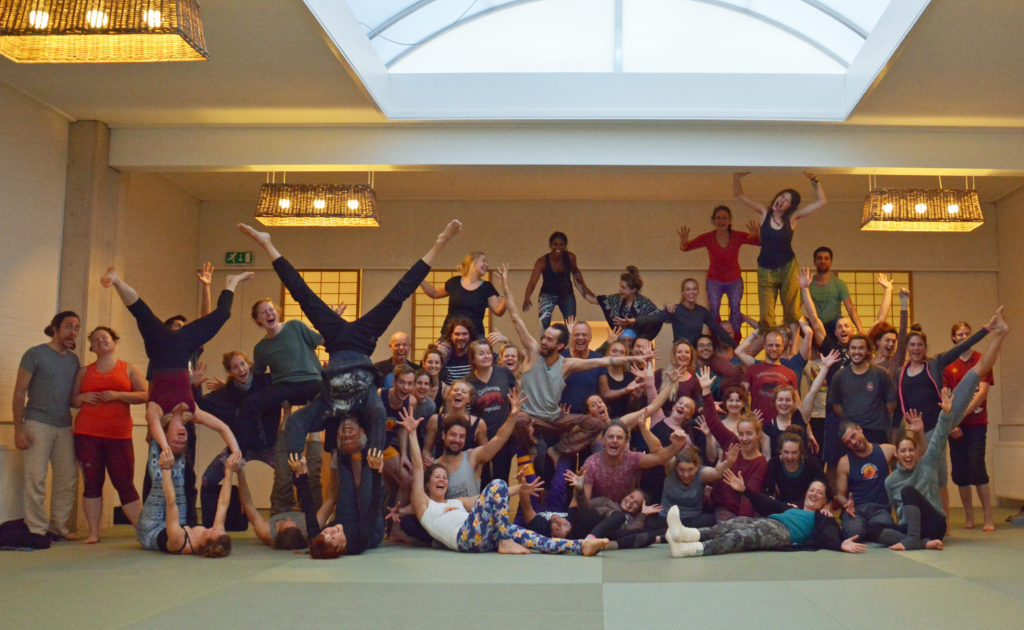 Events
Here you can find events and workshops organized by AcroYoga Moves
Weekly AcroYoga Jam on Monday
CONTENT
AcroYoga Jam (free Training)
TIME
Monday 20:00 -22:00
June 14/21/28
July 5
LOCATION
AcroYoga Moves studio Leiden
The entrance is on the back of the Oude Vest 43. Walk through the Hazewindsteeg (lefthand side when facing the Stadsschouwburg), and then first street to the right (Ceaciliastraat). First door: ring the bell with AcroYoga Moves on it
PRICE
donation based
QUESTIONS
info@acroyogamoves.com
Tea is included.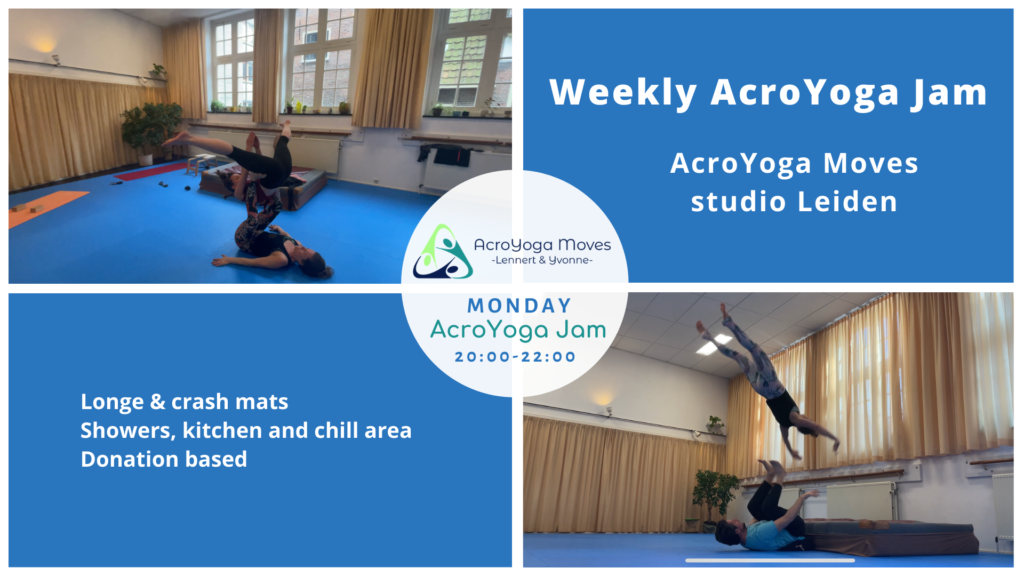 Saturday – Sunday
12-13
June
2021
Opening Location Leiden - Weekend Jam
AcroYoga Moves opens the doors in Leiden!
We can finally, after more than 6 months after receiving the keys, open our doors! Everybody is welcome! If you come to move and play, you can always bring friends and family to introduce them to Acro and the community. Do you live far away? You can sleep at the location. You do gotta bring your sleeping gear though.
There is kitchen and chill area too.
TIME
Starting: Saturday June 12  12:00
Ending June Sunday June 13  18:00
PRICE
donation based
LOCATION
AcroYoga Moves studio Leiden
The entrance is on the back of the Oude Vest 43. Walk through the Hazewindsteeg (lefthand side when facing the Stadsschouwburg), and then first street to the right (Ceaciliastraat). First door: ring the bell with AcroYoga Moves on it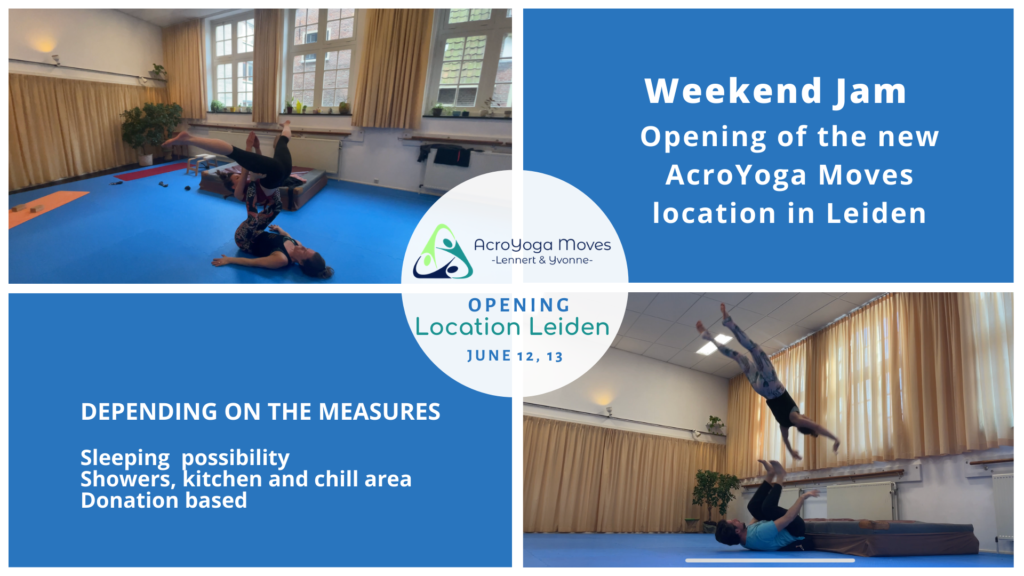 Thursday – Sunday
17-20
June
2021
Midsummer AcroYoga Retreat @Utrecht || 4 days
Midsummer AcroYoga Retreat
Can you believe it? The world is opening up and we can spread our wings! We are so excited to bring the community back together and to start flying again. Lennert, Yvonne, Trevor & Sytske are joining forces to provide you a luxurious menu of all AcroYoga thingies: you can expect flowy washing machines, creative sequences and dynamic pops & whips. All in a soothing environment where you can connect with nature. Food will be provided; delicious & vegetarian. This retreat will be set up as a small and intimate gathering where you can dive in deep together.
This weekend is geared towards intermediate/advanced AcroYoga practitioners. You can come alone or with friends. With four teachers who love sharing their practice, you can learn everything your heart desires: we will give personalized tips and can provide extra challenges if you need to. 
What to expect
Every day will be centered around two or three in-depth acro workshops. To prepare your body for the practice, there will be prehab and yoga in the morning, and relaxation classes at night (Thai Massage, gentle stretching, etc.). We will provide you with breakfast, lunch and dinner with tea & snacks in between workshops. Free time is scheduled as well, so insatiable acrojunkies can keep on going with a jam, but you can also chat with your friends, go for a walk or have some relaxing time for yourself.
Prerequisites
To get the most out of this weekend, you will need to feel comfortable in fundamental L-base acro practices. If you can do Ninja Star, a 5 second Free Star and a Foot to Hand (with or without a spot), you are set! For those with more experience: we'll make sure you get some variations so you won't get bored. If you are worried about meeting the suggested prerequisites, get into contact with us, and we can see if you may still be a good fit.
Where
Hei en Boeicop (close to Utrecht)
When
Thursday 17th of June at 17.00 till Sunday 20th of June at 17.00.
Price
Early Bird (till May 31)
Low income: € 190
Normal income: € 210
 Regular Price (from June 1)
Low income: € 230
Normal income: € 250
This includes all workshops, food and indoor accommodation: you will be fully taken care of.
Registration
Fill out the form to register: https://forms.gle/cFLTR2DskFWw8s9y9
Cancellation Policy
In case we have to cancel the retreat due to COVID-19 restrictions, we fully refund you. Otherwise no refund is possible because of the short notice.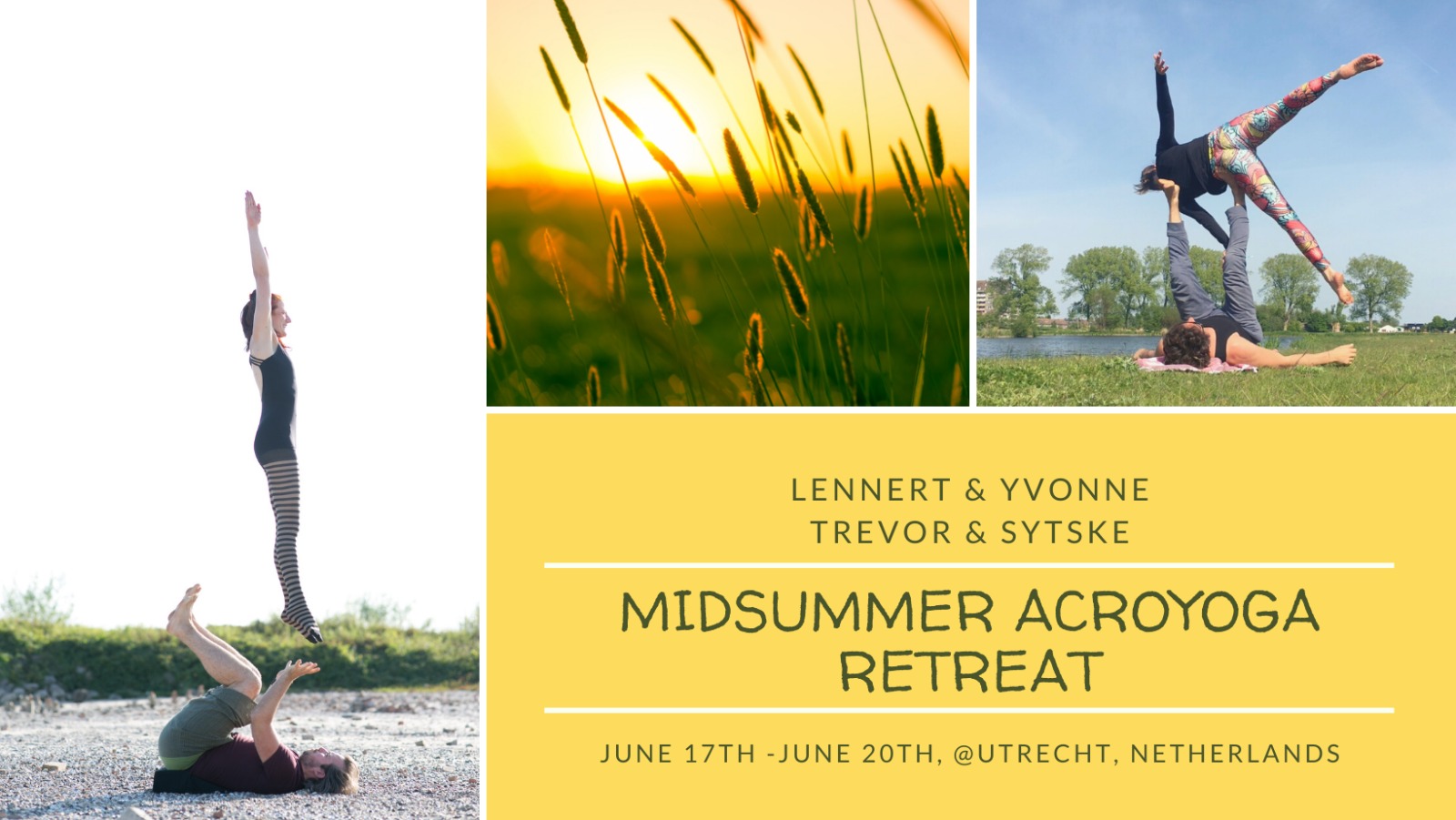 Thai Massage Workshop @Leiden || 19:00 - 22.00
Thai massage, also called Thai yoga massage, is an Asian healing system, where, instead of massaging and 'kneading' the muscles, the body gets stretched, compressed, and rocked. This will be done with both the hands and feet, and the receiver keeps his cloths on. So, other than most massage techniques, no oil will be used.
In this workshop, you will learn to use several techniques in two different massages. One on the back and one on the front side of the body. The two massages together form a full body massage. You will experience both the role as a giver and receiver. So definitely a relaxing and lovely time to spend!
The workshop will be in Dutch, unless there are speakers of other languages, then the workshop will be in English.
You don't need to bring a partner.
DETAILS
Date: June 26, 2021
Time: 19:00 – 22:00
Location: LivYoga, Middelstegracht 89Y, Leiden
Contribution: € 45 (Early Bird* € 35)
* For Early Bird the payment needs to be received 4 weeks before the workshop.
Language: Dutch/English
To bring: wear comfortable and warm cloths. You can get a bit chilly, as you relax and lay still during the massage.
REGISTRATION
Booking can be done in the Liv app or through the Liv website https://livyoga.nl
If you have any questions or are hesitant, please send us a message! info@acroyogamoves.com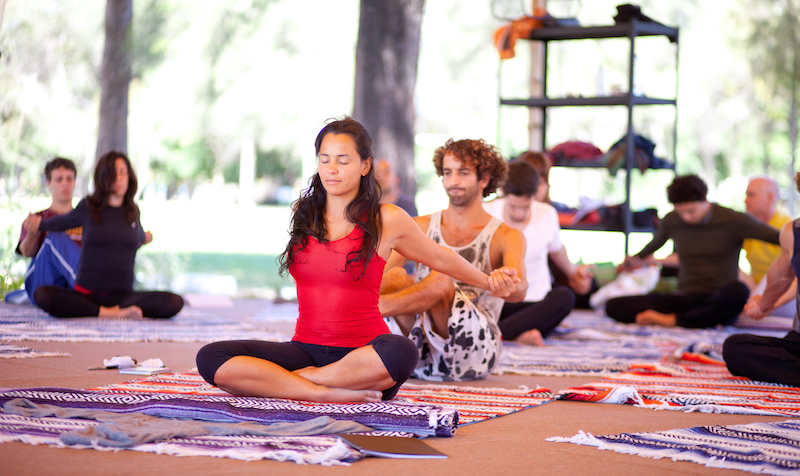 Pops & Icarian - Day Intensive @ Leiden || 10:00 - 22.00
CONTENT
Pops & Icarians
TIME SCHEDULE
Workshop 1: 10:00 – 13:00
Lunch time: 13:00 – 14:30
Workshop 2: 14:30 – 17:30
Jam time: 17:30 – 20:00
PREREQS
Reverse Star
Stable in Basic Washing Machines
Some experience with pops
LOCATION
AcroYoga Moves studio Leiden
The entrance is on the back of the Oude Vest 43. Walk through the Hazewindsteeg (lefthand side when facing the Stadsschouwburg), and then first street to the right (Ceaciliastraat). First door: ring the bell with AcroYoga Moves on it 😉
PRICE
Early Bird Price (till June 10):
Normal income € 65
Low income € 55
Normal Price (from June 11):
Normal income € 75
Low income € 65
REGISTRATION
https://forms.gle/p69ceTVVWoFZHfrJA
QUESTIONS
info@acroyogamoves.com
Tea is included.
Food is not included, there are shops in the area and we got an oven and microwave if needed.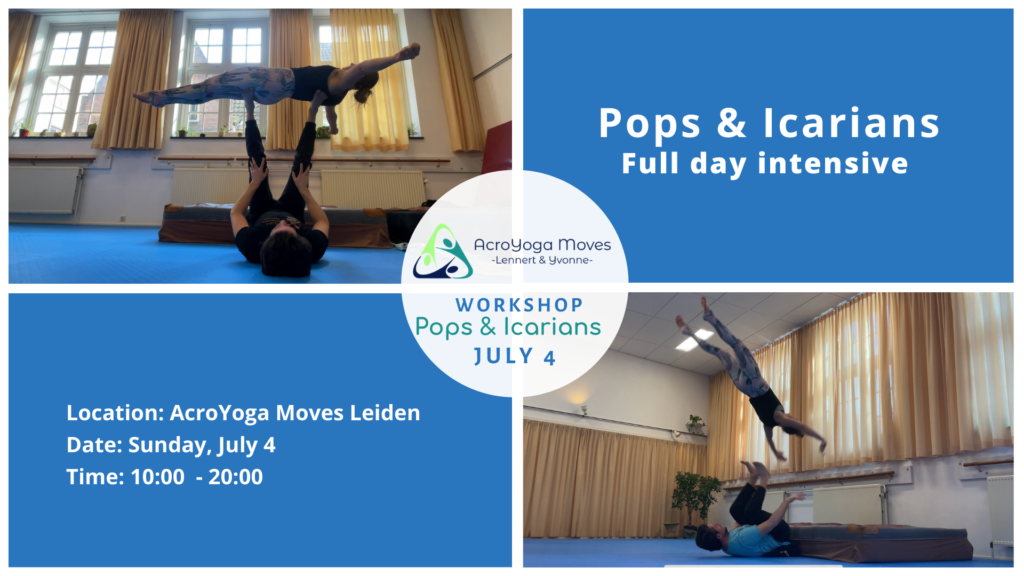 Teachers
Yvonne Gravemaker
Lennert Stevens