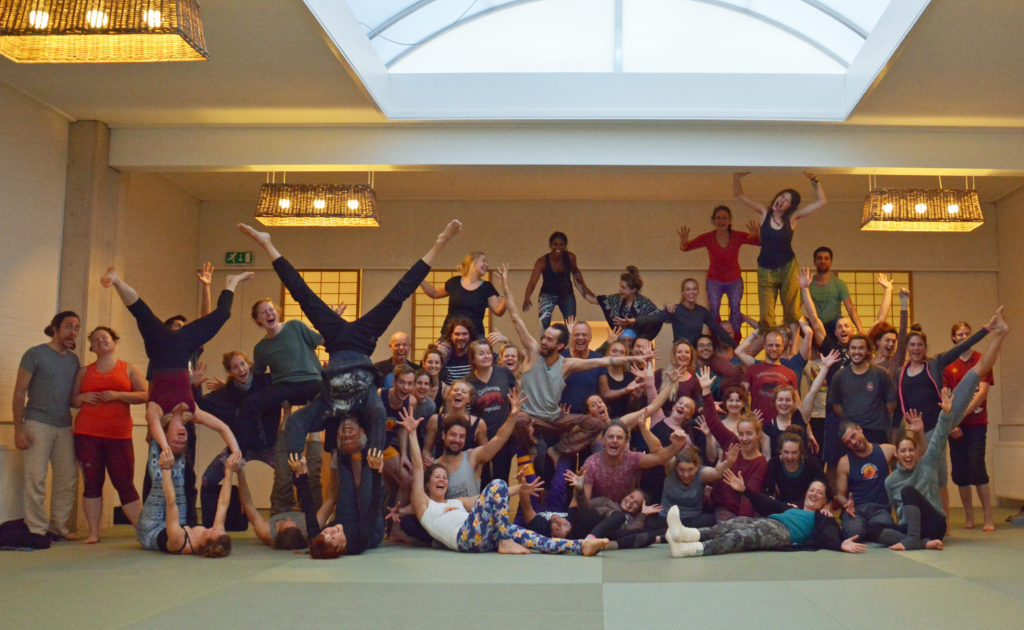 Evenementen
Hier vind je de evenementen en workshops georganiseerd door AcroYoga Moves. Denk aan AcroYoga beginners workshops, verdiepende AcroYoga workshops, Thaise massage workshops, en speciale AcroYoga coaching sessies! 
donderdag- dinsdag
14-19
October
2020
Nederlands AcroYoga Festival - Herfst Editie 2021 @ Den Haag
6-daags AcroYoga Festival waarbij je elke ronde uit diverse workshops kunt kiezen.
Yoga, Acrobatiek, Thaise Massage, Live muziek, Handstanden, Dans Acro en nog veel meer.
Voor meer info zie dutchacroyogafestival.com
vrijdag – zondag
19-21
November
2021
STYL AcroYoga Retreat @Ommen || 3 days
An Immersive Weekend
Are you interested in AcroYoga and want to really dive into the practice? Do you love flows & exciting dynamic movements? Are you ready to truly fine-tune your acro and get to the next level?
Half a year after our first retreat, we're joining forces again to share our passion with you! Sytske, Trevor, Yvonne, and Lennert will provide you a luxurious menu of all things AcroYoga: you can expect flowy washing machines, creative sequences, dynamic pops, whips, icarians, and hand-to-hand workshops.
All in a soothing environment where you can connect with a small group and nature. Food will be provided; delicious & vegetarian. This retreat will be designed as a small and intimate gathering where you can dive in deep together.
This weekend is geared towards intermediate/advanced AcroYoga practitioners. You can come on your own or with friends. With four teachers who love sharing their practice, you can learn everything your heart desires: we will give personalized advice and provide individualized challenges.
Content
Washing Machines, Pops, Icarians, Whips, Whip-pops and Hand-to-Hand.
Level
Intermediate & Advanced
What to expect
Every day will be centered around two or three focused workshops. To prepare your body for the practice, there will be prehab and yoga in the morning, and relaxation classes at night (Thai Massage, gentle stretching, etc.).
Every participant will also receive individualized focus time from one of the instructors to work on a specific topic of their choice.
We will provide you with breakfast, lunch and dinner as well as snacks and beverages in between workshops. Free time is scheduled as well, so insatiable acro junkies can continue practicing or jamming, but you can also chat with your friends, play games, go for a walk or have some relaxing time for yourself.
Prerequisites
To get the most out of this weekend, you will need to feel comfortable in fundamental L-base acro practices. If you can do Ninja Star, a 5 second Free Star and a Foot to Hand (with or without a spot), you are set! For those with more experience: we'll make sure you get advanced options & extra variations so you won't get bored. If you are worried about meeting the suggested prerequisites, get into contact with us, and we can see if you may still be a good fit.
SLEEPING
You will get your own bed to have sweet dreams during this retreat.
FOOD
Food, Snacks, Coffee and Tea is included!
Where
Emsland Sport en Recreatie
Emslandweg 17
7731 RP Ommen
When
Thursday 19th of November at 10.00 till Sunday 21st of November at 17.00.
Price
Early Bird (till October 11)
Low income: € 240
Normal income: € 280
Regular Price (from October 11)
Low income: € 280
Normal income: € 320
This includes all workshops, a private coaching session, food and indoor accommodation: you will be fully taken care of.
Registration
Fill out the form to register:
https://forms.gle/zefJA3dHdCfFyCTx7
Cancellation policy
If you unfortunately can't attend the retreat anymore, please contact us.
Cancellation is possible until October 15: you get the fee minus 50,- back.
From October 15 onwards, there are no refunds.
NOTE I: Tickets are non-transferable.
NOTE II: In case we need to cancel due to COVID-19, we will refund you the full amount.
Corona
We are intending to play responsibly and to take care of each other as needed. In case the measures require us to cancel the event: you will get a full refund.
zondag- zaterdag
2-8
January
2021
Nederlands AcroYoga Festival - Nieuw Jaars Editie 2021 @ Den Haag
6-daags AcroYoga Festival waarbij je elke ronde uit diverse workshops kunt kiezen.
Yoga, Acrobatiek, Thaise Massage, Live muziek, Handstanden, Dans Acro en nog veel meer.
Voor meer info zie dutchacroyogafestival.com
Docenten
Yvonne Gravemaker
Lennert Stevens