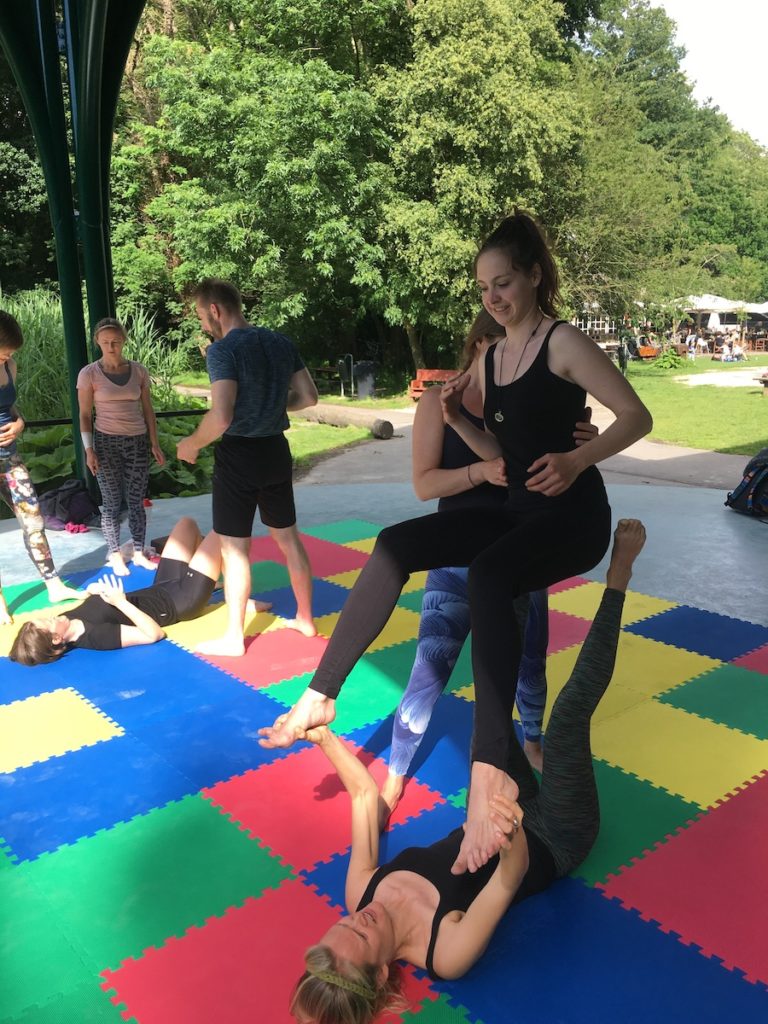 AcroYoga Classes Leiden (Leidsehout / outdoor)
During Summer the AcroYoga classes are being held in at a beautiful and outdoor location in Leidsehout. We bring soft puzzle mats to place at the sheltered location next to the pond with the water fountain. While flying your birds and stars, you'll enjoy the sounds of nature. 
Until half September, you're very welcome every Wednesday evening and Sunday afternoon at the beautiful chapel in the Leidsehout near 'Het Theehuis'. The class is about 2 hours and the place to be to connect to yourself, play with others, and have a good laugh and work-out!
Group connection, Meditation
We start the class with sharing and answering a question, to break the ice and get to know each other a bit.  Then we connect with ourselves and later with others with a short meditation.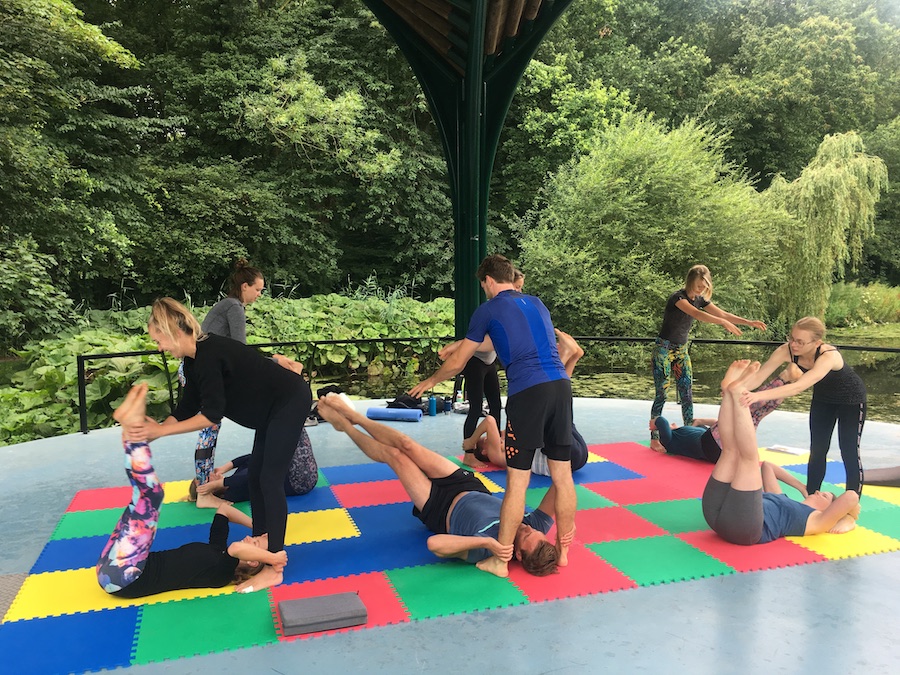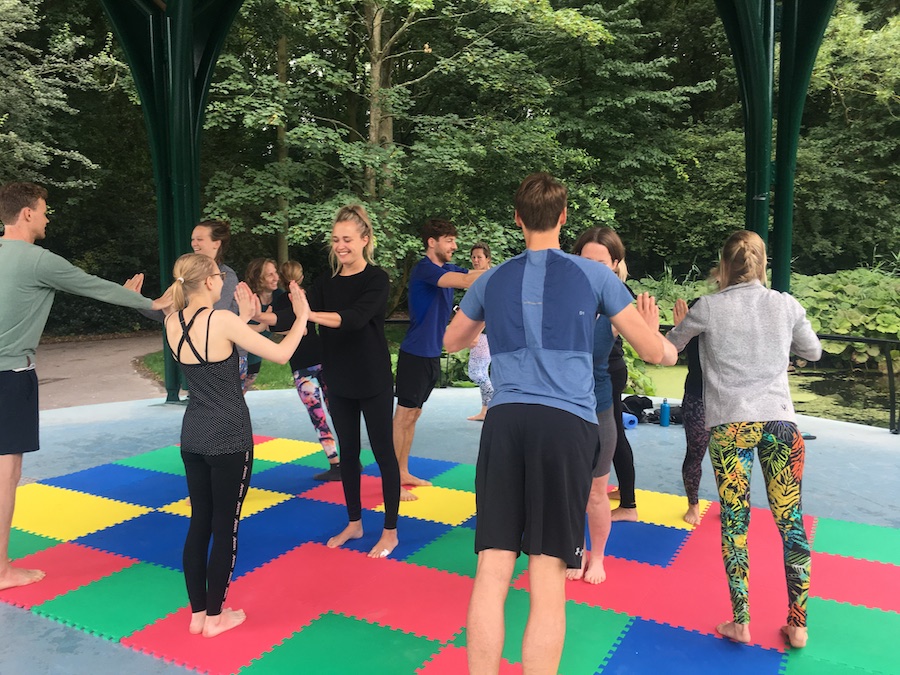 Warming-up the body
We continue with warming up the body either with Acro-Fit, Yoga or Partner Yoga. And sometimes we play a game.
Acro-Fit is a partner warming-up where you cooperate with an other student. Practices are a-like in gym, but now with a human being instead of weights.
Yoga is a guided practice on your own mat. 
Partner Yoga is a guided practice you do in combination with the other students.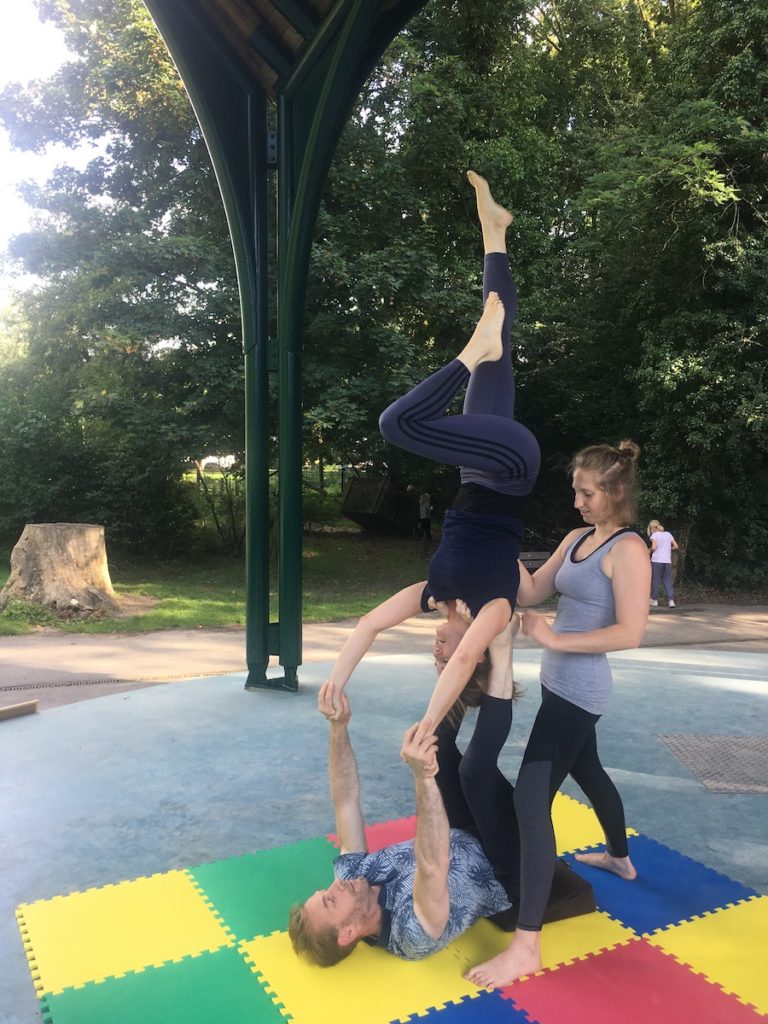 Partner Acrobatics
When the body is warm we can start with the main part of class: Partner Acrobatics. You will mostly work in groups of 3 or 4 people, so you have friends (spotters) to keep you safe and protect you from falling .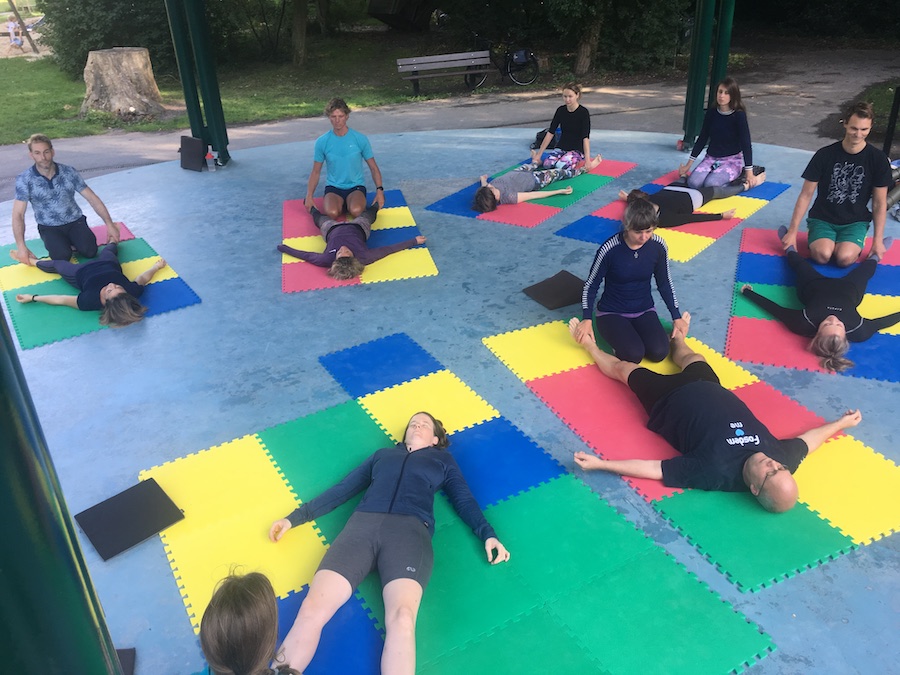 Thai Massage
We finish the class with some body maintenance, this can be Therapeutic Flying or Thai Massage. Therapeutic Flying is more or less a Thai Massage in the air. 
Class level and teachers
We adapt our classes to different levels, with easier and more challenging variations of poses, washing machines and flows. You'll work on your own level! There is no need to bring a partner!
There are no prerequisites, because we teach on multiple levels. Everyone is welcome, from beginner to well-seasoned practitioner!
TEACHERS
Lennert and Yvonne
Both certified Yoga and AcroYoga teachers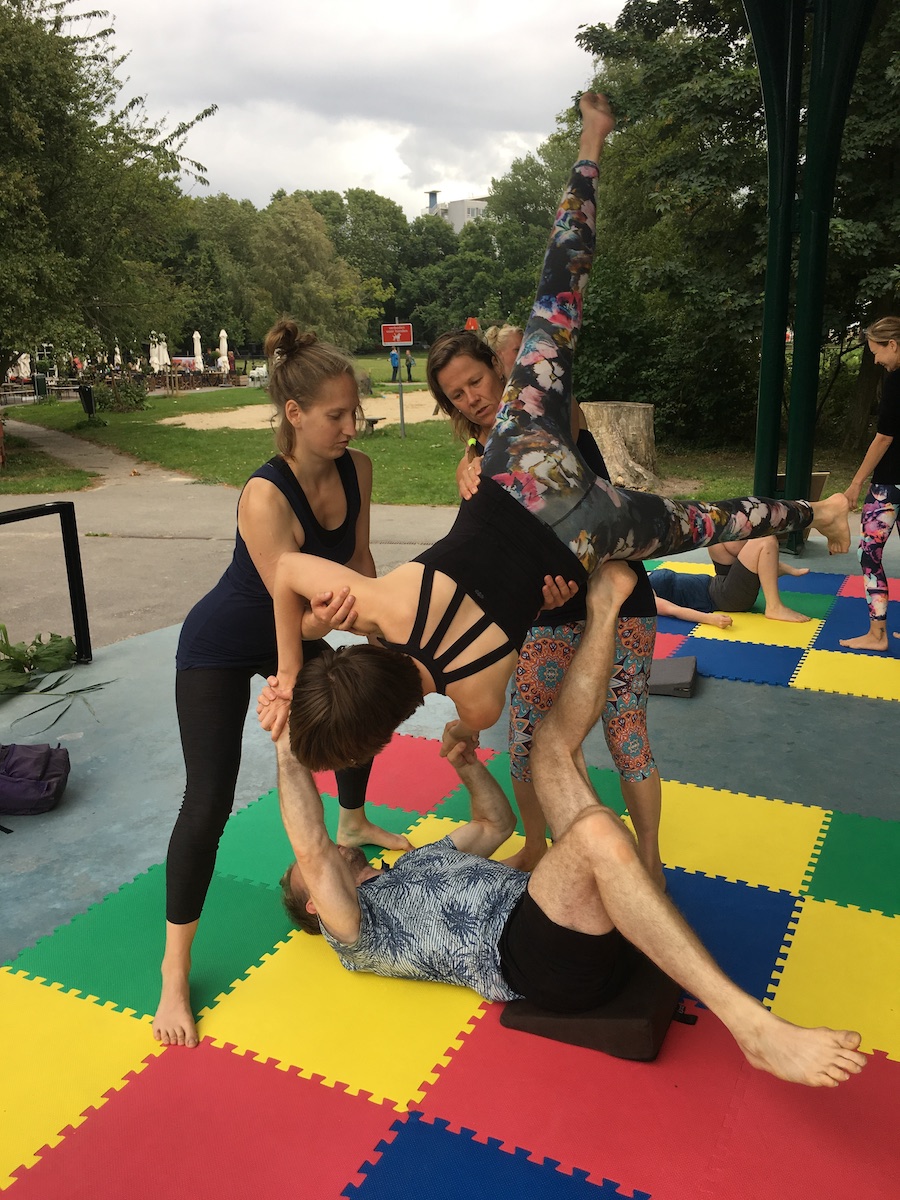 2 Trial Classes
Never joined our classes? We have a special price for you!
Single Class
For if you want to join a single class.
3 – 5x Punch Card
You can use the card for all outdoor classes during this season.
6 – 8x Punch Card
You can use the card for all outdoor classes during this season. 
9 and more Punch Card
You can use the card for all outdoor classes during this season.
Registration
For registration, send an e-mail to: info@acroyogamoves.com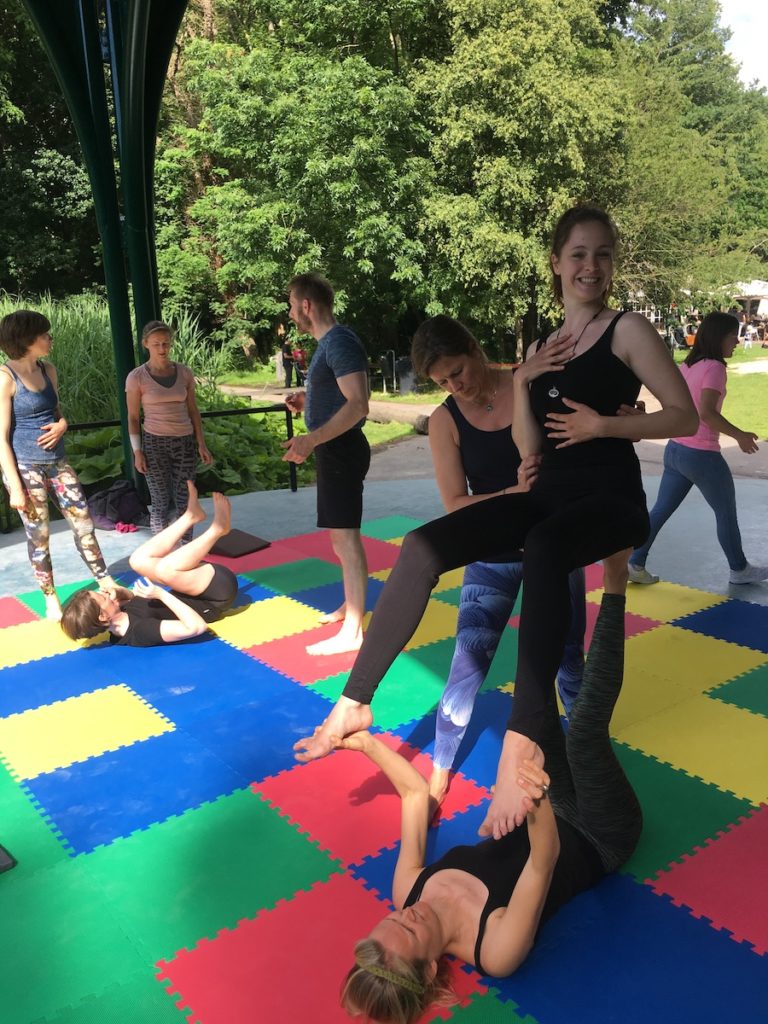 What Is AcroYoga?
AcroYoga is a combination of Yoga, (Partner) Acrobatics and Thai Massage.
Is AcroYoga A Cardio Workout?
No, but it will help you to get or keep in shape.
What Should I Bring?
A water bottle and a smile 🙂
For the outdoor classes, bring some warm cloths and a towel or yoga mat.
I Have No Experience, Can I Still Join?
Yes! We love new students! It's always a pleasure to see the joy and sparkles in their eyes, doing their first tricks and poses! We're happy to learn you the basics!
Do I Need To Be Strong For AcroYoga?
No. We will teach you to make good alignments and then it's all about the bones that carry the weight. We call this bone-stacking, where the weight goes trough the bones without overusing the muscles.
What Should I Wear?
Anything easy and comfortable. Leggings and not too loose t-shirts will help not to get entangled. Pants without pockets is also preferable.
Do I Need To Bring A Partner?
No. There will be enough people to work with. You are more than welcome to come alone.
Address
Het Theehuis in de Leidsehout
Houtlaan 100
2334 CL Leiden
DIRECTIONS
Car:  free parking at UVS (soccer club)
Public Transport: From Central Station Leiden it on walking distance.
AcroYoga Moves
Houtlaan 100, 2334 CL Leiden, Nederland
July 12, 19, 26,
August 2, 9, 16, 23, 30
July 15, 22, 29
August 5, 12, 19 , 26
Take your first 2 classes with a special discount
We're happy to welcome new people and let them explore this amazing practice.  If it's your first class with us, you can buy two classes for the price of € 20! (valid for a period of 8 classes in row)
Teachers
Yvonne Gravemaker
Lennert Stevens